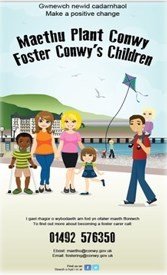 Looked After Children require a range of placements to meet their needs. In order to build up our range of in-house fostering placements, we needed a revised strategy to ensure that our marketing tools and recruitment process were fit for purpose. Working in partnership with an Independent company, we have reviewed our current processes and refreshed our existing marketing tools.
As a Local Authority we are competing with the independent sector to recruit Foster Carers, and felt we needed a strong brand identity. After consulting with existing Foster Carers and staff, we now have stronger marketing materials, aligned with Conwy.  Prospective Foster Carers now get a clear message that we ''Need Foster Carers to Foster Conwy's Children".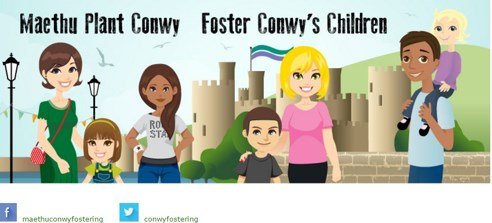 The Information packs for Foster Carers have also been refreshed, and existing Foster Carers have been involved in the creation of four videos, focused on the following areas:
Fostering siblings
Fostering Children with Disabilities
(Short breaks)
Assessment and Support process
Fostering Teenagers
These videos have been shared on social media (Facebook, Twitter and YouTube), to modernise the way we recruit Foster Carers.
The Conwy website has been updated to ensure that it's more engaging and enquiry forms can now be completed online.
Whilst recruiting new Foster Carers is a priority for us, it's important for us to retain those we already have. Therefore, new methods to aid retention have been developed, such as quarterly newsletter and a Looked After Celebration day to celebrate the achievements of Looked After Children.  An incentive scheme for existing Foster Carers is also in place, whereby rewards can be earned for referring new prospective Foster Carers to apply. Existing Foster Carers also support information evenings, and community recruitment events.
This post is also available in: Welsh