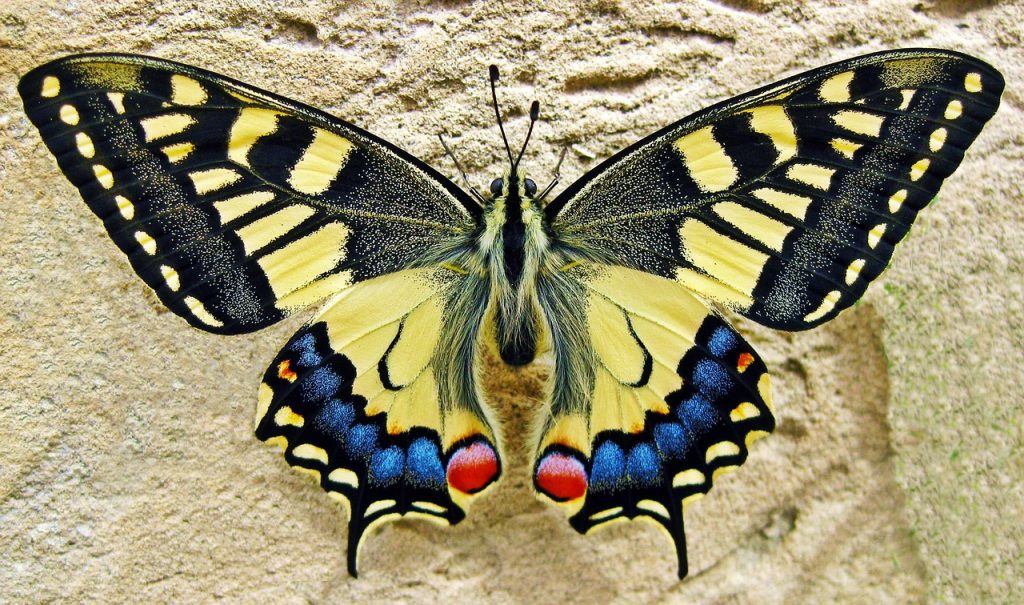 The Social Care Transformation Programme is now approaching its conclusion. Critical to its success has been the governance arrangements that have been in place at Project and Programme levels.
The scope and scale of the Transformation Programme has been unprecedented, and it is commendable that service delivery and corporate business processes have been maintained during this period.
The transformation programme has been aligned to the service/resident outcomes and 4 key drivers for change, namely:
Delivery of the Social Services and Wellbeing Act
The research phase of the programme (which involved staff from the service developing recommendations)
Regional collaboration and;
The financial challenges the Service and Council continues to face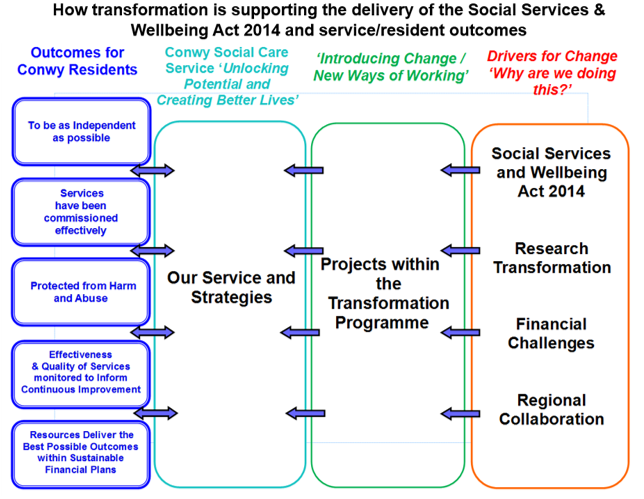 The Programme comprised 14 projects (which between them had over 60 work packages) that make up the programme are different in their complexity and nature. The projects have all introduced changes or new ways of working, to support the delivery of services and better outcomes for Conwy residents.
The outcomes of the projects are diverse, and include the following:
The establishment of new referral processes and tools, such as the simple assessment "What matters" framework, to draw out information from the client
Enhancement of the Conwy Single Point of Access Service, which provides information, advice and assistance from across sectors
Creation of an Adults Assessment Framework, which focuses on what outcomes people want to achieve
Capital investment to develop new well-being hubs in Llandudno and Llanrwst and the development of wellbeing activity programmes
Creation of new reports to manage performance of the service
Purchase and rollout of the new "Call Confirm Live" system, primarily used by locality care workers through the use of mobile devices.
Realigning resources and delivering a restructure, which includes the development of new Wellbeing, Valuable People and lifespan Disability Service's, with a focus on prevention
Production and reviewing of safeguarding practices
Modernising the Foster Carer payment model process, to make it more transparent simple, fair and easy to understand
Review exercise completed on the legislation, policies and practices of the Looked After Children Service, with recommendation identified and progressede. to support the service a Duty Worker, Placement and Commissioning Officer and new Fostering Recruitment post has been created and appointed
Development of a Participation and Engagement Strategy, to ensure service users are involved in shaping the delivery of services
Social Care Staff Communication and Engagement Plan produced, with the aim to ensure that all employees are informed, included, listened to and are able to contribute to service improvement
Development of "Llys Gogarth" Combined Residential Service, providing a 52 week, 7 days a week, 10 bed enhanced residential provision and;
other tools, practice frameworks and ICT investment to help staff undertake their roles and support the delivery of quality services
The transformation Programme and projects are all formally coming to an end in June 2016, with the project outcomes becoming part of the services "business as usual". Any outstanding work is being transferred to be managed and monitored operationally as will be the ongoing review of the service/resident outcome's over the forthcoming years.
A client testimonial relating to the development of health and wellbeing hubs and the activity programmes:
"There has been a huge void in my life after my wife died. I was wondering how I was going to fill it, what I was going to do with myself. When I came to Ty Llywelyn and was shown round the place and introduced to the programme of their wellbeing activities I thought there was a lot of things I could become involved in. This gave me hope."
Since that initial visit he has tried a number of activities.
"Getting involved with the various activities at Ty Llywelyn has made an enormous difference to my life. It has filled the vacuum I was experiencing after losing my wife. I have made meaningful connections with people I had met and forged some friendships. Involvement with one of the groups gave me also an opportunity to contribute my skills and expertise in the service of the group. All this had a tremendous impact on my wellbeing and the quality of my life."