50% of people who responded to our Citizen Survey agree that they can do what matters to them.

This can be due to a variety of limiting factors, including poor physical and mental health, issues with mobility, or due to caring duties and all the responsibilities they bring.
The fact that I cannot walk prohibits many of the things that I long to do.
I am very restricted to what I can do due to my caring role
Hwb yr Hên Ysgol – One Year On
In June 2019 the Deputy Minister for Health and Social Services, Julie Morgan AM, officially opened Hwb yr Hên Ysgol, the new health and wellbeing facility in Llanrwst.  The site offers fitness, activity and meeting rooms which have been utilised by local people since its doors opened in January 2019.  So what has been going on at the hub over the last twelve months?
The facility was an instant success, with over 80 different types of fitness suite inductions being carried out in the first two weeks. By January 2020 154 new Ffit memberships had been created, allowing members access to all of the activities on site. There have been over 15,000 attendances to the hub, whilst over 5000 have attended one of the twelve instructor-led fitness classes and three interactive fitness classes which are held each week.
Three busy weekly GP referral classes have been attended by 68 different people who have signed up to the scheme, as well as four GP consultations per week, weekly cardiac and pulmonary rehab gym sessions and a falls prevention class, with room for more!
From a well-being perspective, clubs, organisations and community groups meet at the hub on a regular basis to dance, socialise and discuss local issues.  The community of Llanrwst and its surrounding areas are really benefiting from having the hub close to where they live.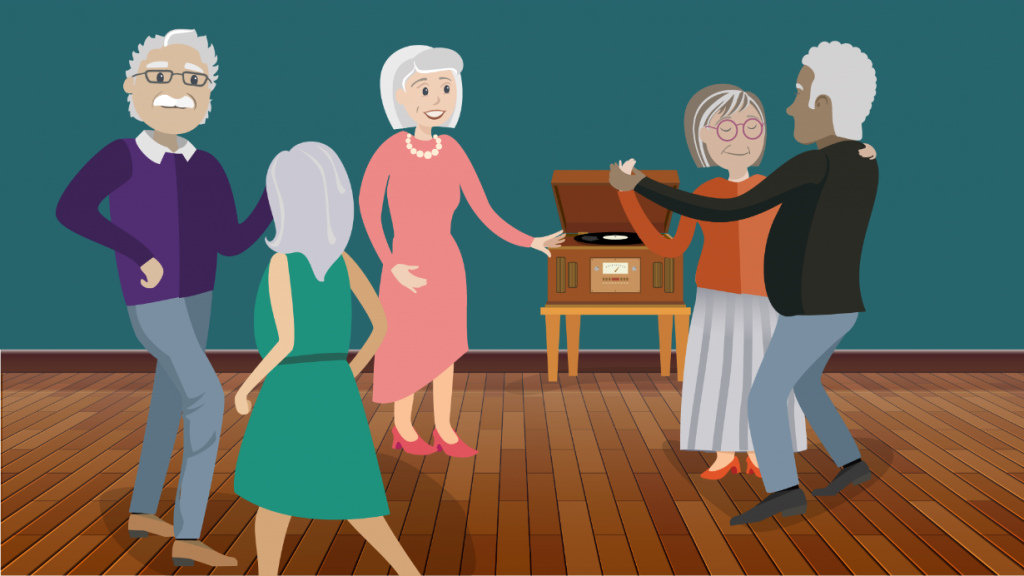 Working Collaboratively – Increased Support for Individuals with ASD
We have made positive progress on supporting our citizens with an Autistic Spectrum Disorder (ASD).  Work is underway across a variety of Social Care services including Disabilities and the Family Centres to develop pathways for those children who do not have a disability or severe mental ill-health.  Also, the Regional Integrated Autism Service is now established and permanently funded via the WLGA.  The service will provide diagnostic assessment for autistic adults (sometimes jointly with other services), support and advice for autistic adults and parent carers.  There are excellent links with the Family Centres in Conwy with parent groups well attended.
What's next?  
We are re-establishing the Conwy and Denbighshire ASD Stakeholder Group with a revised Terms of Reference and Independent Chair.  We will also be employing a Project Manager to focus on writing a local action plan.
Community Wellbeing Team Programme   
From April to the end of December 2019, the Community Wellbeing programme has delivered 275 sessions across the county, which have been attended by 3,260 people.
The team aim to raise awareness of the Five Ways to Well-being approach through their programmes. Since April 2019, 30 different programmes have been delivered, of which:
76.5% incorporated the 'Be Active' element of the 5 ways to wellbeing approach
100% incorporated the 'Connect' element
86.1% incorporated the 'Give' element
100% incorporated the 'Learn' element
100% incorporated the 'Take Notice' element
Of those who completed evaluation forms after attending one of our programmes:
100% said they enjoyed the activity
100% said they would recommend the activity to others
100% said they had met new people/made new friends
61% reported being able to manage their own health condition better/said they felt happier/healthier as a result of the attending the activity
Part of the work of the team is to focus on programmes which target specific conditions such as mental ill-health and work closely with local GPs to target individuals who would benefit from attending these programmes. Recent projects that have been developed in this way include Sophrology and Art and Mind.
As part of our recent ten-week Sophrology programme, participants were asked to complete the Short Warwick-Edinburgh mental well-being evaluation tool before and after the programme. The results showed that 100% of participants had seen an improvement in their overall score. Based on the results we were able to calculate our social return of investment. The results estimated that for every £1 that was invested in the programme, our social value return was £8.68.
The team have supported communities across Conwy to develop and deliver a variety of activities, dependent on the needs of the older people living across communities in Conwy.  Programmes have included Silver Swans ballet for over 50s, walking football, singing for fun and social groups like the Panad a Sgwrs group in Llangernyw.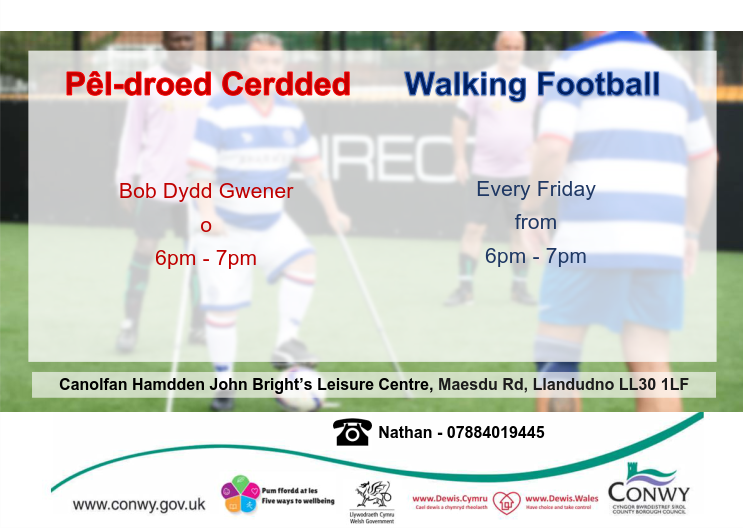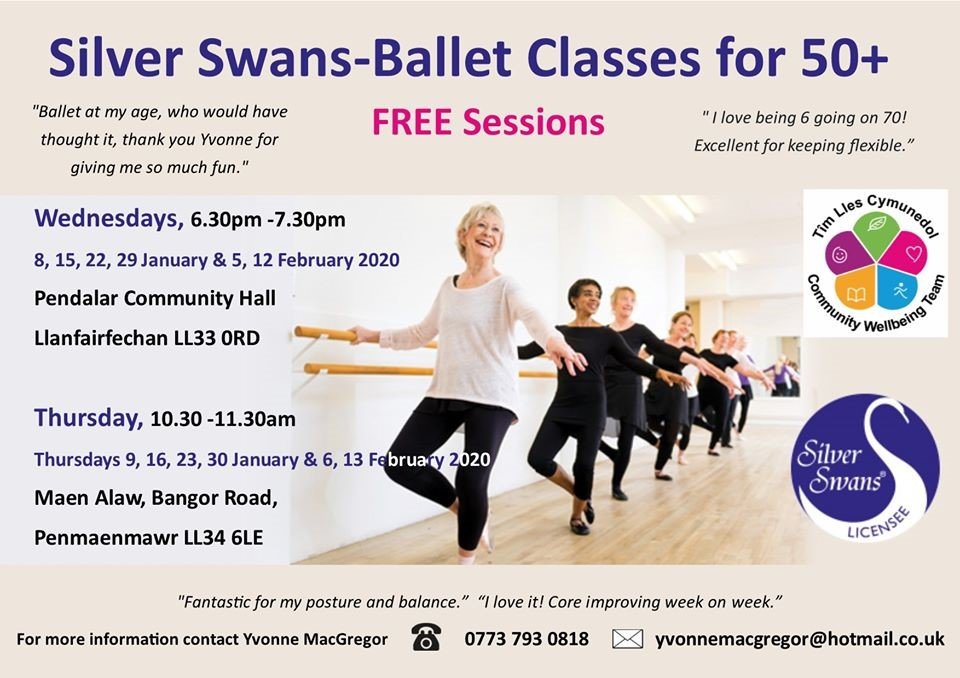 We have also supported patients within our local community hospitals, enabling them to have a well-being boost through in-the-moment experiences. Sessions delivered as part of our 'Patient Wellbeing' project have included horticulture, singing, intergenerational sessions with local schools, hand massage, arts and crafts plus many more. The project was awarded an 'All Wales Continuous Improvement' award under the local authority category. The aim of the project is to tackle social isolation and loneliness and to help patients re-connect with their community after being discharged from hospital.
Community projects supporting people with dementia
The team have successfully delivered community groups and sessions to support people living with dementia and their Carers. Here are just some examples:
The team have set up a Friendship Café in Llanrwst for those living with dementia and their Carers to attend. Sessions have been popular and take place at Hwb Yr Hên Ysgol on School Bank Road every last Tuesday of the month.
The team are actively involved with and have helped with the set-up of three dementia-friendly groups within the county, including Dementia Friendly Stella Maris, located in Llandudno, the Deganwy Dementia Café and Kinmel Bay Memory Café.
We continue to offer support to care homes in our county and have been working closely with three EMI residential homes in Kinmel Bay to develop some intergenerational sessions. Kinmel Lodge and Alistair House have been linked up with Ysgol Maes Owen, and Bay Court with Chwarae Teg nursery in Pensarn; sessions now take place on a regular basis.
81% of people who responded to our Citizen Survey were happy with the support they receive from family, friends and neighbours.
My family are very supportive….without them I'd be lost
Family, friends and neighbours have their own lives to lead and so their help cannot always be called on
The importance of community comes to the fore, especially when people no longer live close to their families.  Carers especially appreciate the support and kindness of others as it can help to alleviate the pressures they feel in such an all-consuming role.
Learning and Participation for Looked After Children (LAC)
The Looked After Children Development Grant has enabled us to support children both within and outside of the county to access learning and provide opportunities to manage their well-being. We have supported schools to undertake the Trauma Informed Schools Diploma, emotional literacy courses, nurture programmes and arts-based and play therapy. Personal Education Plans (PEP) for LAC continue to be developed through the promotion and engagement of schools, and the development of a new plan in line with the Additional Learning Needs (ALN) Act. Regular reviews ensure contact with all education providers outside of the review process, and a clear link between the Local Authority and schools.
We have also worked to develop integrated working relationships between Social Care and Education professionals, with clear goals to support LAC education by ensuring processes of both are understood. There has been particular development in this area for children currently residing outside of Conwy in private care placements. Increased engagement on both a strategic and operational level has supported tighter monitoring of education and learning taking place, with improved and targeted outcomes as a result. We have supported children to be able to access mainstream settings outside of the care placement, using planned transition and support.
Continued support from Gwe and neighbouring Authorities around practice and development of provision has ensured that we plan effectively for future changes, also providing our LAC with a breadth of opportunities.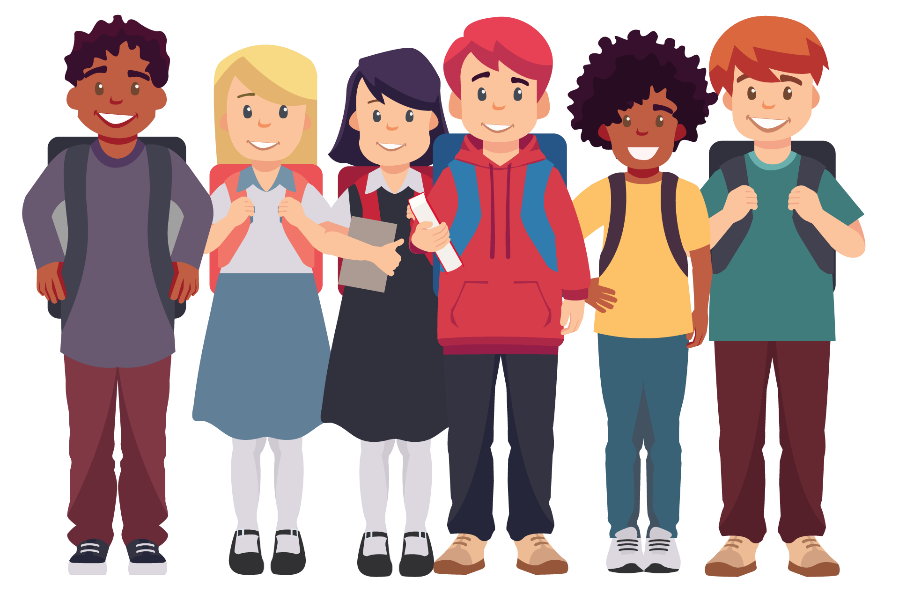 What's next?
The recruitment of a permanent post-holder to drive and encourage creativity in this area will undoubtedly be the first step within the next stages. We have clearly identified areas of work, both short- and long-term in order to ensure that the education and attainment of LAC within Conwy continues to be a priority and also aligns with wider legislative changes within this area through the Additional Learning Needs (ALN) Act. This is an exciting stage of development for the support we provide for our LAC to engage and learn, with the chance to embrace changes proposed through the Act and also commence the identified work programme. Key areas of work will be the commencement of Virtual School, development of PEP in line with the Individual Development Plan [IDP ALN Act], wider engagement with local authority education provision, and the development of resources within settings to support learners.
Supporting care leavers to reach their potential
We have worked on several initiatives to give care leavers every opportunity to thrive once they become independent:
A focus on apprenticeships and courses, and the barriers which prevent young people from taking advantage of them.
Kickstart funding to provide 24-hour support for looked after children and care leavers with complex needs.
Funding for step-down support from residential care in the form of 2 x independent living flats with support attached.
Collaboration between Personal Advisor (PA) team and Positive Pathway Officer to reduce homelessness from supported accommodation.
St David's Day Fund homeless prevention element, to assist with rent and deposits for care leavers to enter private accommodation when they are ready for it.
Working with private supported living accommodation providers to ensure consistent support for young people.
Care leaver involvement on interview panels for Open University Social Worker and Personal Advisors.
What were the challenges?
The primary challenge has been to engage with young people in a group setting. Although the PA team have built very positive working relationships on a one-to-one basis, the feedback from events is that often young people don't like attending group sessions.
Although we are striving to overcome barriers preventing young people from embarking on apprenticeships, the entry grades are set at a national standard, and education providers are unable to deviate from this (currently 2 x GCSEs).
What's next?
Care leavers have just been awarded further funding from the St David's Day Fund and they will be given a say in how it is spent via an online survey. We may also adopt a 'people's parliament' approach to the funding, allowing a small cohort of young people to sit on the panel and decide whether to award the funding to applicants.
Regarding accommodation, we have several plans for the next few months which will provide exciting opportunities for young people with different needs:
Leasing a 'pod' from Cartrefi Conwy to provide accommodation for care leavers returning from university or during When I'm Ready respite periods.
We are looking forward to the completion of the Maelgwyn site which will provide a four-bedded unit for care leavers.
The Supporting People team have worked in collaboration with Hafan Cymru and the Vulnerable People team to look at the development of Coed Pella House, which is a six-bedded unit for young people.
One of our Personal Advisors will work with Housing to complete a Renting Ready course. The PA will then continue this work with the team and the young people who access the PA service.
Support for children with disabilities
We have been able to utilise the new facilities at Canolfan Dinorben to provide support for children and young people with disabilities and complex behavioural support needs. Two after-school clubs for children aged 5-19 years have been transferred here, providing access to secure outdoor space, a calm, low-sensory indoor environment, sufficient play areas to allow gradual introduction for children with more complex needs, and access to experienced staff in challenging situations. Parents and families have been exposed to the wide range of other services offered by the Family Centres and how to access them.
As well as the after-school clubs, children with disabilities who receive one-to-one support at weekends are now able to make use of Canolfan Dinorben during times of bad weather; previously, there was no venue available to them. The Family Centre provides a secure environment where children can learn and develop skills, and work towards accessing activities in the community or joining clubs with groups of other children.
It is hoped that when further Family Centres open up throughout Conwy, e.g. Colwyn Bay, more children and young people with disabilities and complex needs will be able to access them in the same way, providing benefits to them and their families.