73% of individuals who responded to our Citizen Survey said that they received the right information and advice when they needed it.
I am in contact regularly with key professionals and support organisations.
Overall, 76% of people reported being actively involved in decisions about how their care and support was provided.
Exciting new disability respite provision
Conwy County Borough Council have plans to build a new residential respite service due to the increase in people with disabilities whose Carers need respite on a regular basis.
Located at Bron y Nant in Colwyn Bay, the new building will provide everyone who comes to stay their own private living space and a large communal area for socialising. Its locality will make it accessible for most people to reach, and easy for them to access the amenities and services they need and enjoy in the area.

We shared our plans via a consultation exercise and open event with people who utilise our current respite facilities, potential future service users and people living with Carers. The open evening at our Coed Pella offices provided a drop-in session and opportunity to speak to the architect, the Service Manager, disability managers and also Health representatives. We were able to answer enquiries and log any concerns, including reassurance around continued provision of respite.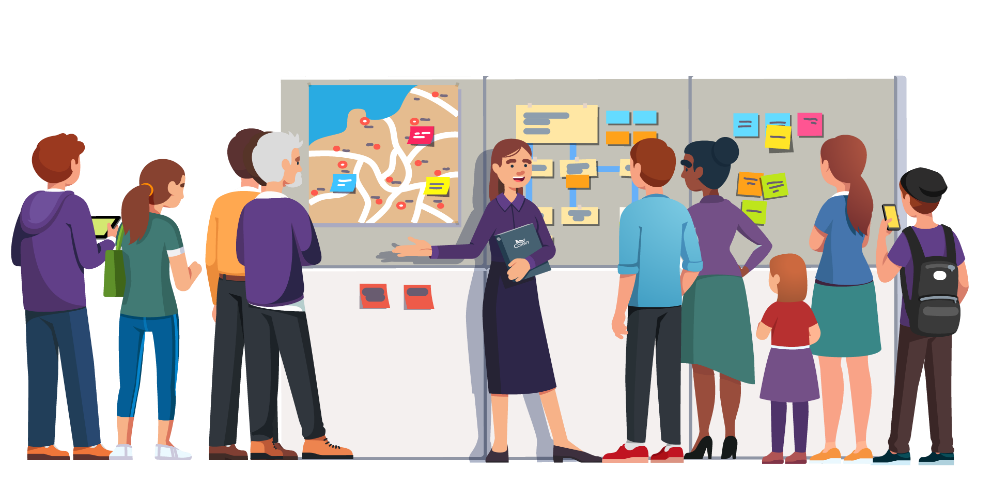 79% of people told us that they know who to contact about their care and support.
I feel comforted just knowing there is support there for me.
Carers have been brilliant and easy to get hold of.
For some respondents there is frustration that they are not able to be visited by familiar support workers or professionals each time. We try where possible to provide consistency, however it is not always possible to ensure that the same colleagues are available throughout the period of care and support.
Adults who require information, advice or assistance are able to contact us between Monday and Friday on 0300 456 1111 and anyone calling regarding a child can contact 01492 575 111.
Integrated service for children and young people with disabilities
The Integrated Care Fund has facilitated a work stream to focus on children with disabilities and complex needs, adults with learning disabilities and Carers, and has provided a vehicle to jointly commission services available to children with disabilities. A significant element of the funding is focused on early intervention and prevention and supporting children to progress. The Child and Adolescent Learning Disability Service (CALDS) has supported the Disability Service to pilot a complex needs holiday club for children who require support from Health and Social Care. The pilot was successful and has been extended to all school holidays. A further project has enabled a child with complex health needs to access respite at Llys Gogarth. She is supported by a health care worker who is able to carry out health interventions when she is at Llys Gogarth.
Youth Council Developments
The Youth Council is a group of young people aged 11 to 25 years old, who aim to provide all of the young people who live in the county with an opportunity to have a say on things that affect them. There are a number of representatives on the Youth Council from different secondary schools, colleges and the Youth Service. Over the past twelve months, the Youth Council has been involved in some fantastic work. Here are some examples below.
Promoting Online Safety
Following the Annual General Meeting with the Conwy People's Partnership, the Youth Council chose to explore the theme of internet safety. More specifically they chose to focus on the dangers and risks associated with online radicalisation as their chosen subject for the coming year. To learn more about the subject, the group met with the Digital Information Officer for Youth Services. The Youth Council also went on an away-day to explore the subject further and decide on the right angle that is relevant for young people. They also met with a representative from North Wales Police who delivers training in relation to anti-radicalisation.
Following on from the Youth Council's research into the subject, they decided to look at early intervention in relation to online grooming and manipulation. A poster has now been completed and will be shared with different services and includes points of contact for children and young people.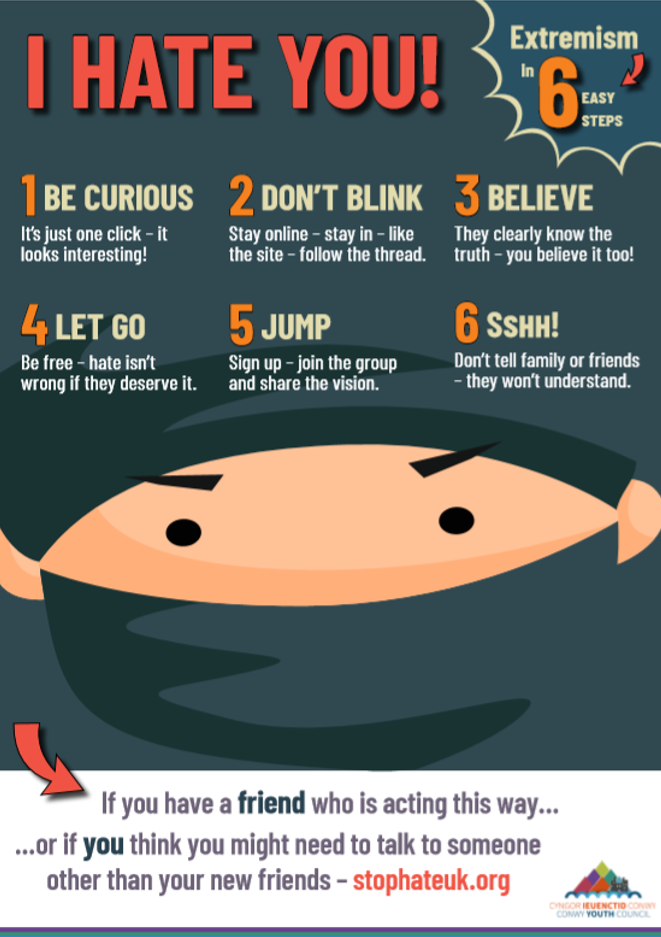 All Wales Youth Parliament
Membership at the Youth Council has grown over the past year and we are delighted to announce that three Youth Council members have been elected onto the first All Wales Youth Parliament. Elections include a representative for Young Disability Wales and to the areas of Aberconwy and Clwyd West.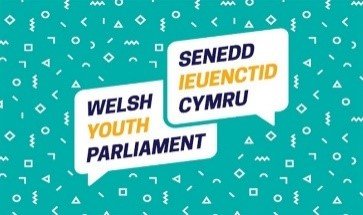 The first Youth Parliament meeting was held in North Wales in January 2020. Also, all three newly-elected individuals have attended their first meeting in Cardiff. Over the next two years, the Wales Youth Parliament will focus on three key areas, including emotional and mental health support, life skills in the curriculum and littering and plastic waste.
The Reablement Officer Role
The new role of Reablement Officer has been created to support the flow of individuals through our Reablement Service. The Reablement Officer works closely with the team to support the next stages for individuals following the end of the intervention period. These individuals are supported to either move onto the independent sector where they require a long-term care and support package to ensure their well-being outcomes are met, or they are signposted to other community-based well-being services if they do not require a formal care and support plan. This ensures there is a constant flow of individuals through the service and we are able to offer a period of reablement intervention to more people.
Where individuals require a long-term package of care, a financial assessment is undertaken to determine what they will be charged for this service. This process is completed quickly, which ensures individuals are charged promptly for the services they require.
Since these new posts were introduced we have seen an improvement in our capacity to deliver a reablement service as well as a more seamless transition to further services. The demand upon and the capacity to support the population of older people in Conwy is increasing year on year. Our ability to provide an effective and efficient reablement service is key to managing those demands. The creation of this role has enabled us to improve the efficiency of this vital service and ensure that we are able to maximise the number of individuals who can benefit from a period of reablement whilst retaining or regaining their independence.
77% of people who responded to our Citizen Survey agreed that they are happy with the care and support they receive.
Couldn't have been any better.
Dementia Support Workers
Through utilising the monies available via the Integrated Care Fund (ICF), we have been able to deliver the priorities as set out in the Dementia Plan for Wales 2018-2022. The Dementia Action Plan sets out a clear strategy for Wales to become a dementia-friendly nation that recognises the rights of people with dementia to feel valued and live as independently as possible within their communities. The Plan recognises the need for cross-government, multi-agency and society-wide support for people with dementia.
We have employed five Dementia Support Workers to work as part of the five Community Resource Teams in Conwy. These individuals enhance the efforts of the multi-disciplinary teams with maintaining and supporting individuals who are living with dementia in their own homes as well as providing support to their Carers.
Despite experiencing challenges in recruiting to these roles, we are already beginning to see the benefits that they are bringing to the lives of individuals living with dementia.
Case Study
Mr X came into contact with the service via a locality intake. Mr X lives alone and it became apparent that he had a number of issues including memory loss, a physical health problem and he was also suffering grief due to the recent loss of his wife. The Dementia Support Worker was able to build a good rapport with both Mr X and a member of his family. An appointment was arranged on Mr X's behalf to see his GP, who diagnosed significant memory loss issues and a referral was made to a memory clinic.
Regular and practical support has been given to enable Mr X to go shopping, attend clinical appointments and regular visits to his departed wife's grave, which has been beneficial to Mr X to support him through the grieving process. Through input from the Dementia Support Worker, Mr X has been referred to an external agency and the Support Worker is assisting with the transition process. Mr X is also receiving ongoing support with his physical health issue. This has meant that there have been no medical emergencies and he has been able to gain control of the situation.
Despite living with memory loss and grief, Mr X. continues to thrive in his own home. He continues to enjoy his independence and lives very well with help from the Dementia Support Worker, family visits and essential home visits.
89% of people who responded to our Citizen Survey agreed that they had been treated with dignity and respect.
Both the staff that called, and on the phone, were helpful and courteous.
Training for Staff – Working to Outcomes
Our Workforce Development and Learning section has provided training throughout the year in relation to person-centred outcome-focused service delivery. Working to outcomes is the focus of practice and assessments undertaken by Social Work practitioners across Social Care. The aims and objective of the training include:
• Increased awareness of an outcome-focused approach to practice
• Increased confidence for practicing an outcome-focused approach
• Identify how legislation changes the relationship between providers and the individuals receiving services
Progress so far
We have delivered numerous training sessions to both internal and external care and support providers within Conwy. Sessions have also been delivered to various sections across Social Care, for example, the Quality Standards team, Looked After Children service, Foster Carers, Mental Health teams and locality teams.
What difference has it made?
The sessions have made a difference in that staff and practitioners have an increased understanding of a greater focus on the person receiving care and support and there is a stronger commitment to ensuring the person's voice is heard.
What's next?
We have identified that there is a need to integrate with Health colleagues into future learning activities. We will be developing collaborative workshops for commissioners and providers to widen the scope of this training.