What does the Citizen Survey tell us?
Only 46% of adults feel that they are part of their community with barriers including having moved into the area from elsewhere, physical immobility, and social isolation. This contrasts with 87% of adults who completed the easy-read version of the questionnaire feeling that they belong in the area where they live.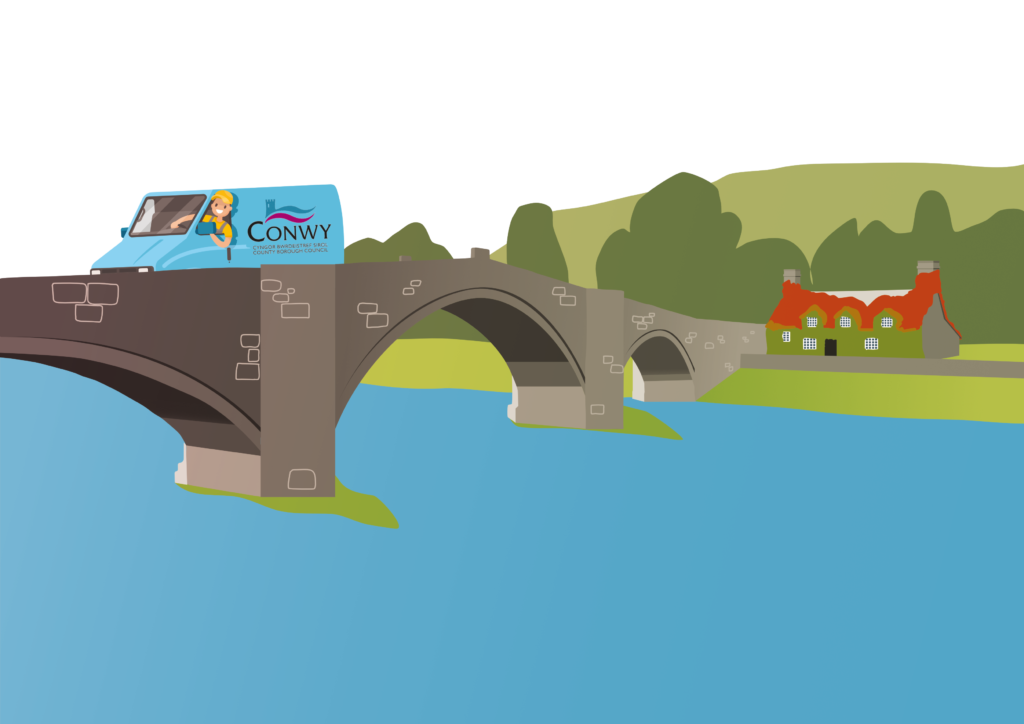 46% of Carers feel part of their community; a low figure, which can be attributed mainly to having to prioritise their caring responsibilities over getting out and about in their local area.
70% of children agreed with this statement.
We asked Carers whether they feel supported to continue in their caring role and 64% of respondents agreed that they did. The additional comments demonstrate that the pressure on Carers to stay well and capable of continuing in their role is high. There is fear about the future and what will happen to their loved ones.
One has no choice – it has to be done.
Sometimes it is a lonely place. Never enough sleep time.
We also asked carers whether they felt involved in designing the care and support plan for the person they care for and 81% agreed that they were.
Providing support to families
Conwy Family Centres
Last year we reported on how we were planning to open a Family Centre in Abergele to provide community-based and accessible support, available earlier for families, and open to all families. The Family Centre continues to grow and we have made a lot of progress in developing the new model for our Early Support and Prevention services for families in Conwy.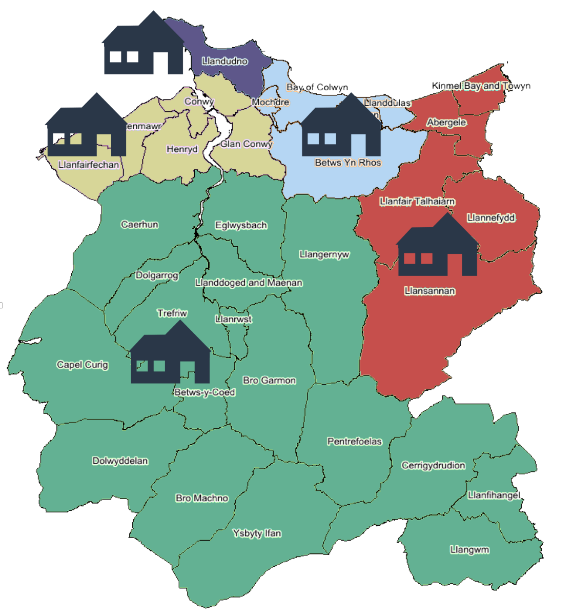 In the last year, we have:
Established five local Family Support Teams – previously Team Around the Family and Flying Start family workers. The Llanrwst Family Centre has already been there for several years, and the team continue to serve the South of Conwy.
Opened a new Family Centre in Abergele (Canolfan Dinorben), to serve the communities in the East of Conwy.
Developed and started to run a timetable of sessions and activities in each of the areas, including open-access groups, parenting courses, sessions with partner services, and one-to-one support for families.
Started working on developing a Family Centre in Central Conwy (Colwyn Bay and surrounding communities).
Continued to work closely with families and the people who work with families – we have a Project Advisory Group of parents and young people.
In the last twelve months, the Family Centre in Llanrwst has worked with 676 service users.  A total of 232 sessions have been delivered including groups.  We have also recorded that 542 individual support groups to family members have been provided so far. 
You can find out more about the Family Centres by watching our You Tube video.  The diagram below demonstrates the levels of support available from our integrated teams.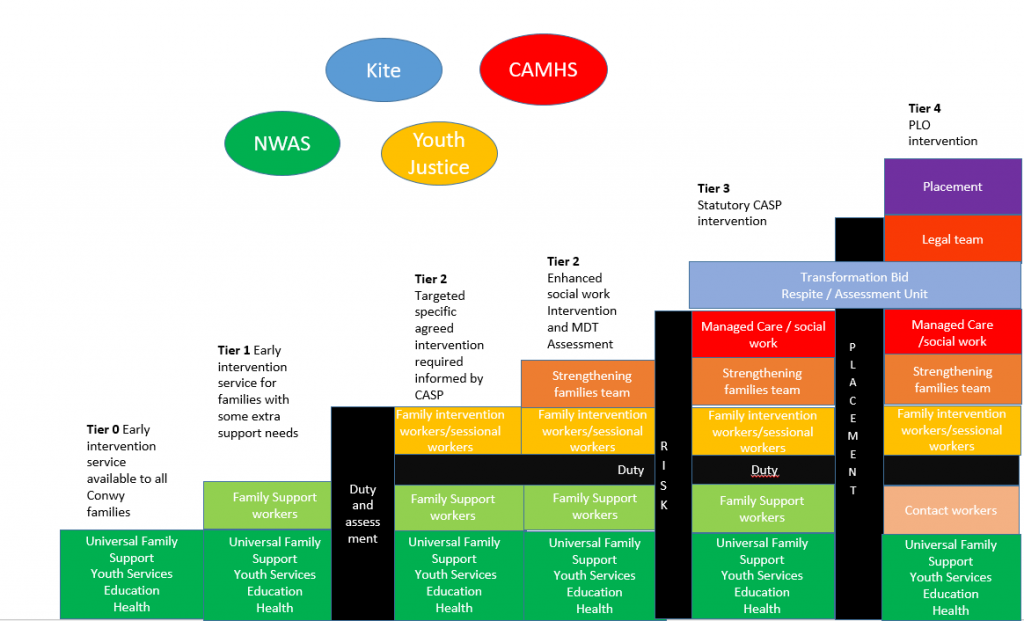 Case Study
'S' referred herself to the Family Centre as she was struggling to parent her eight year old son and fourteen year old daughter. 'S' had recently left a violent and controlling relationship with her ex-partner but the children had witnessed domestic violence against their mother. As a result 'S's son was displaying challenging behaviour, which he may have learnt from his father, and her daughter was suffering severe emotional issues and engaging in risky online behaviour.
'S' engaged with the Family Centre who referred her to Relate for family mediation.
Her daughter was referred to Child and Adolescent Mental Health Services (CAMHS) and to the STAR programme.
Multi-agency meetings were held at both children's schools to create a coherent action plan with other agencies and improve relationships and understanding between their home and school settings.
A Family Worker undertook 'Worry Jar' work with all three family members.
As a result, 'S' reported being able to parent her children more effectively and confidently whilst her children displayed improvements in their behaviour. The outcomes of this intervention were very positive, with all agencies communicating well together, resulting in a happier and calmer home life for 'S' and her children
Team Around the Family
Since April 2018, Team Around the Family have worked with 588 families requesting support from preventative services. The majority of the families we work with have experienced or are experiencing various issues like domestic violence, mental illness, and alcohol or substance misuse. It is not unusual for families and children to be experiencing several of these issues simultaneously.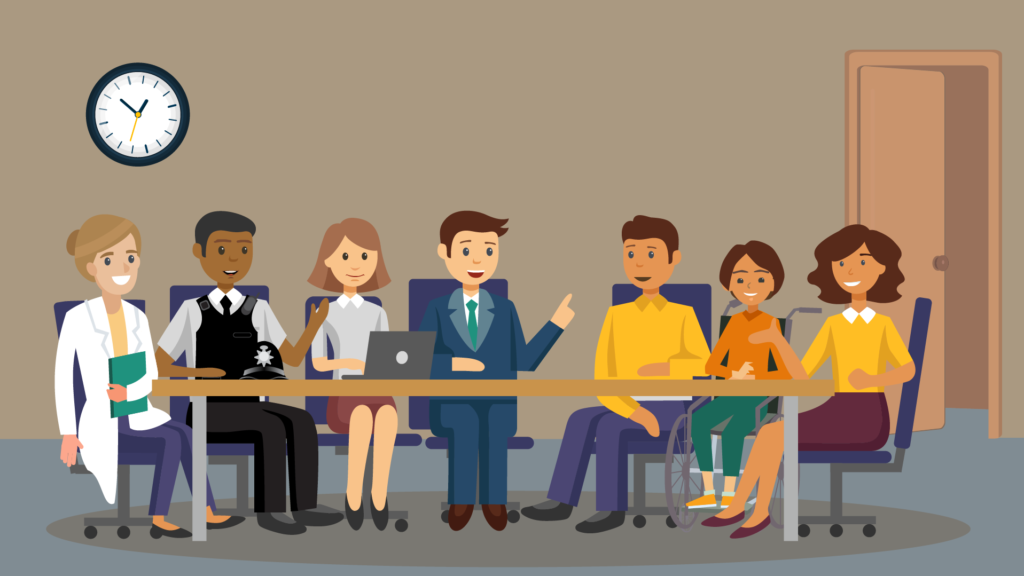 Strengthening Families Team
The Strengthening Families Team is made up of experienced Social Workers and Family Therapeutic Workers. They provide a prevention service, working to support the most acute level of need where families are at the edge of breakdown. The team focuses on preventing children becoming looked after by supporting families to keep young people safely at home or to return home (where possible) through intensive and individualised support. The team have been up-skilled and provide a number of complex interventions, including play therapy and family mediation.
What difference has it made?        
So far there have been 58 referrals into the team, many of which required a multi-disciplinary approach to prevent placement breakdown.  This resulted in 103 out 106 children remaining in their homes or the same placements.
What were the challenges?
Moving away from traditional working methods, to concentrate on strengths as well as risks;
Accessing timely Child and Adolescent Mental Health Services (CAMHS);
Staffing the team to full capacity was not possible, leaving the team without key support;
Meeting conflicting demands from internal teams.
What's next?
We have invested time and development in our existing team members and it is a priority for us to be able to offer them permanent work contracts. We'll be working closely with CAMHS to develop a joint model for children who are looked after and also implementing the self-harm pathway along with CAMHS.
Future plans
We'll continue to offer social work student placements to provide valuable experience in this field;
We plan to develop links with the Family Centres around Conwy in order to support a 'step down' approach and help families develop networks in the community;
We will set up specialist groups for families around attachment and supporting young people with Autistic Spectrum Disorder;
We need to develop skills and experiences to respond to the increasing number of referrals received in relation to adoption breakdown.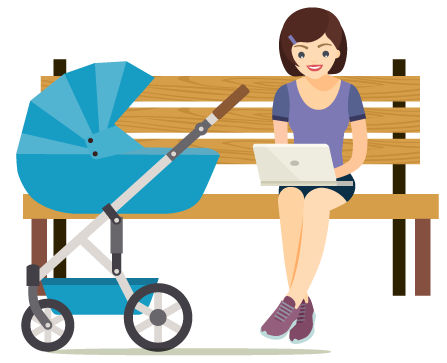 Case studies
Our Strengthening Families Team have recently worked with a family whose child (D) was at risk of becoming looked after due to conflict and tension within the household. 'D' had received a diagnosis of autism and presented with challenging behaviour at home. With the support of the team, the family have now developed and learned techniques to deal with 'D's challenging behaviour. This has meant that 'D' has become more settled and the conflict within the home has reduced.
'T' has been supported by the Strengthening Families Team to improve her emotional wellbeing, including support to address mental health difficulties. Many weeks have been spent with 'T' working on focusing on her personal outcomes. We have also collaborated with other support agencies and 'T' attended a programme which allowed her to open up about previous experiences which have had a detrimental effect on herself and her family. 'T' is now in a better place mentally, emotionally and socially. This support has also improved the overall wellbeing of her family and improved her parenting skills.
Supporting our Foster Carers
Foster Carers deliver an essential service to Conwy County Borough Council by providing safe and supportive home environments for children who need them the most. It is essential that Foster Carers feel supported to continue their role, so in January 2019 we asked our Foster Carers to provide feedback on the support they receive from Conwy Social Care's Fostering Service. In all, 40 Foster Carers agreed to share their views on topics such as training opportunities, communication with our team of professionals, and the quality of support they receive.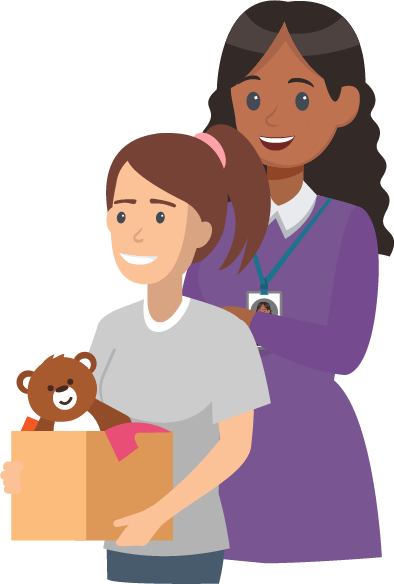 What did they tell us?
55% of Foster Carers have been with us for over five years and of those, half have worked with us for more than ten years. We need to work hard to ensure that fostering remains an attractive role and that we continue to recruit new Foster Carers to the service.
In respect of new foster care placements positive feedback was received about the level of communication with most key members of staff within the service, the 'matching' experience, where children are placed in the most appropriate home environments for them, and clarity about the role of the team in providing support to Foster Carers. Also, the majority of foster carers said that they received key documentation, and that the introduction process was good.
Very happy with the way potential placements are identified and the quality of information shared.
We asked our foster carers for feedback on relationships with staff across the Fostering Service. On the whole, we received positive feedback about a range of staff including Social Workers, Looked After Children Nurse, LAC Education Officer, contact workers and external agencies such as CAMHS.
Overall, 74% of respondents described the support they receive from the Fostering Service as Excellent or Good.
We need to work on providing meaningful ways for Foster Carers to meet informally and look at whether our training is delivered as expected. We also need to ensure that Foster Carers are treated as professionals in their own right and listen to their views.
What's next?
We have commissioned a more comprehensive review of placement support and have commissioned an independent consultant to consult with Foster Carers, Childcare Social Workers and the Family Intervention Team; we will then convert any recommendations into an implementation plan.
Foster Carer Learning Pathway
In the last year we have undertaken an evaluation of training and learning opportunities that we provide to our Foster Carers. Following the evaluation, we have implemented the Foster Carer Learning Pathway which has led to significant developments in creating learning opportunities for our Foster Carers. The key developments include:
Training priorities for each Foster Carer in their first year, then continuing development in the second year and beyond. We will provide further opportunities through bespoke training.
An online training course which catalogues over 150 training courses, covering both adults and children.
A Hub which provides links to key organisations, a booking facility for over 20 targeted courses and links to support groups.
We will be monitoring attendance and feedback of the Learning Pathway through our Workforce Development Team on a quarterly basis.
Connected Persons Support
The term 'Connected Person' describes a specific type of foster care placement where the child is looked after by a relative or a friend. The Connected Persons support group was established some years ago with the aim of providing an opportunity for Connected Persons Foster Carers to meet each other for an informal sharing of experiences. In addition the group includes formal training and a focus on relevant topics. We are pleased that the group has gone from strength to strength since being established. In the last year, six groups convened with up to twenty foster carers taking part overall.
The group have benefitted from an alcohol awareness session run by CAIS and a parenting course. Carers also had the opportunity to attend a Foster Carers conference and consultation in Cardiff.
The group has provided the opportunity for Connected Person Carers to give feedback. Feedback has been positive as Carers appreciate the chance to meet together and cover topics relevant to their area of care. They have also told us that they would like more regular groups on a monthly basis and specific events to be arranged.
What's next?
We have seen a real growth in the number of Connected Persons Carers over the last couple of years. We will be creating a specific team to ensure that support is provided, with a focus on caring for a relative or friend.